I spent most of the last 2 weeks in Nova Scotia, first in Halifax and then at my brother's place in the Annapolis Valley, blissfully taking a break from the news and getting back in touch with my Irish-Scottish roots (i.e. drinking Irish whisky and Scottish Scotch)
For those not aware, Nova Scotia actually means "New Scotland" in Latin and "Scotia" is the original Roman name for "Ireland". Hence, I spent my downtime honouring the origins of the region in the most comprehensive liquid way I could (I also drank Roman wine)
And sometimes, that's all you have to do in Nova Scotia for the trip to have paid for itself.
This trip however was different because I also got to host shows in front of live Halifax audiences and spend quality family time with my quality family including wife Nancy, daughter Scarlett, brother Ross and sister-in-law Erin. And sharing Nova Scotia with family is even better than sharing it with whoever happens to be sitting in the bar beside you.
For one thing, Halifax is an amazing place to fly a kite in. It's windy pretty much all the time, there is an ample grassy area to run around in in the middle of downtown and when you're with a toddler who has never flown a kite before, it's pretty much the coolest thing in the world to do.
Scarlett took to flying her butterfly shaped kite in much the same way I took to my first sip of Irish whisky: It was clearly the beginning of a lifelong friendship. This coupled with the fact that Scarlett was treated like an absolute queen (slight upgrade from princess) by all in the crew of the show I was filming (Short Film Faceoff, airing on CBC television soon. Check your local listings) meant that daddy was a hero by association. Indeed Scarlett will now follow and/or lead me to every television project I work on so that she can get her makeup and hair done and raid the craft table for treats.
And sure, lots of people like children. But not a lot of television show crews would provide their host's daughter with a handmade bunny complete with a note that said "Scarlett, Can I please come live with you?" That's not just a step up in hospitality. That's a full goddamn HOP! Which was echoed by the hotel we stayed at, the Atlantica, providing Scarlett with her own stuffed bear and her mom and dad with their own bottle of champagne and strawberries (presumably to help create a little brother or sister for Scarlett to present another bear to)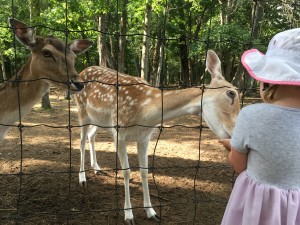 There was also the Oak Lawn Farm Zoo in Aylesford where Scarlett got to take her first pony ride and Erin and I got to see how a female donkey scratches her private parts (hint: it involves a chain link fence), Hall's Harbour where you can get a Lobster dinner so it practically jumps out of the ocean on to your plate and the Wolfville Farmers Market where my brother's great Pasta (the noodle guy) mixes with a whole bunch of other amazing Annapolis Valley vendors including so many craft brewers that if you took part in all the free tastings you could get a pleasant buzz on (I'm guessing).
And all of this culminating with a taping of The Debaters at the Rebecca Cohn theatre at Dalhousie University where a sold out crowd of Nova Scotians showed up to laugh their arses off at my talented Debater friends and gave us a standing ovation at the end despite the show going over 3 hours long on a Tuesday night!
Well Nova Scotia, believe me, the feeling is mutual.
All of this to say, if you ever get a chance to visit Nova Scotia (like maybe THIS summer) for God sakes do yourself a favour and take it. It's a great place to get intoxicated. But it's intoxicating for way more than that.